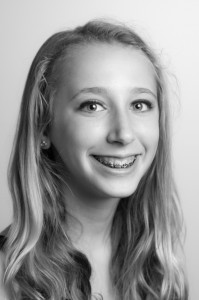 As a way to improve my portraiture, I volunteer to shoot head shots for my daughter's school music productions for use in their programs.  Now, I know that these will be tiny B&W images printed from a laser printer or copied on plain paper, but I also know that they will give the programs a much nicer look and there will be a lot of very happy parents.
When I first did these, I experimented against a white board as background with a one light setup (umbrella and speedlight with radio trigger) and a single reflector (white) and made adjustments to position of lights for student height as well as for male/female lighting.  The changes were subtle, but I was pleased with the results.  The first shoot I think I shot close to 30 kids in barely an hour – so very rapid fire.  Was a good exercise in managing light, time and subjects.  (If you think getting 30 14-year old girls and boys to feel comfortable in front of the camera for a portrait is easy, then you have not done this!)
A few months later I was asked and then shot some older kids – but experimented against a black background for a low-key version.  The images looked great – but as I suspected, did not print well at all on the mediocre laser technology the school used.  I ended up re-processing to try to match the tonal range (bump up the blacks) and they actually looked decent in the programs.  For this shoot – I went with a three light setup – all speedlights with radio triggers – hair/gird – fill / umbrella – key / umbrella.  Shooting high schoolers was a tad easier than the younger ones, but I also learned (thanks to an observant assistant I brought along) to work more on my "bedside manner".
Want to learn what I figured out?