I have shot street many times over the years. I did the long lens thing, the big DSLR thing, and even the mirrorless thing. In each case, while I got a lot of great shots, there was something missing for me.
I am a daily commuter to manhattan, and after moving offices last summer, I have about a mile walk from Grand Central Station to 53rd and Broadway. While my old commute was a walk up Madison Ave, I could not help but notice the incredible diversity of people I would encounter during this new route.
Starting in late July, I decided to carry my trusty Fuji X100S camera with me each day to see what I could capture during my commute. At first, I would stop and shoot using traditional street techniques. I used some fun methods I learned from Zack Arias during an all day street shooting seminar too.
Two things came up…
First, I got caught up shooting some ballerinas in times square and I ended up coming in late for a meeting.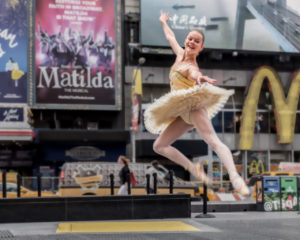 Second was that it was very difficult to get the images I had been seeing walking down the sidewalks. I found so many people lost in thought on their journeys to and fro – and I don't mean the ones with their heads stuck in a phone! I wanted to capture these people in their element – and to the extent possible – head on to show what I was seeing.
I needed to do something different.
This is where I started to experiment with how to capture what I was seeing. My first attempt was to carry my camera facing backwards and walk past people I wanted to capture and shoot them. The combination of my personal trajectory on the sidewalk and the difficulty of guesstimating the framing of the camera pushed me to think about other means. Let's just say, my success ratio was pretty lousy. Next.
Given that I was walking and seeing things I wanted to shoot, I evolved this to face the camera forward. I hold it down by my side with a finger on the on/off ready to turn it on and shoot. I found settings along with continuous shooting and focus that allowed me to literally swoop in while walking and target a subject.
Over time, my ability to blindly aim the camera has improved and where I started out discarding 3/4 of my shots, I am now able to keep significantly more of the series.
I taped over the memory light and have all displays turned off on the camera, so my main method to know the camera is ready after shooting a burst of frames is to feel for the lens focus to stop moving. I'll flick it on and off to make sure I can feel the camera gently vibrate. Of course, my camera is set in quiet mode and being mirrorless, it is virtually silent when shooting.
This is a humbling process. If you are used to being in the studio or shooting traditionally, this technique may not be for you. I have missed so many great opportunities. I was shooting on the way home in late summer when times square was still light and bustling. I found several sure "keepers" on my path and veered over to shoot. I felt the distinct vibration of the lens moving after each shoot and power off, only to realize that the battery had drained and every time I turned the camera on, it simply turned on, then immediately turned off. I captures 0% of what I saw on that trip. Now I have added an "eye scratch" to my routine where I bring my camera hand up to scratch myself and glance through the viewfinder to make sure the battery is working, etc!
The process gets easier every day with practice. I have improved my accuracy. I now regularly check battery and memory cards to avoid missing shots.
Check out my https://www.facebook.com/bobplotkinphotography/ or https://www.instagram.com/bob_plotkin/ where I'll be posting regular updates.
This is a fun series – I am still working on it close to 10 months since starting and am as enthusiastic about the people I see today as I was when I began.
between: people caught in life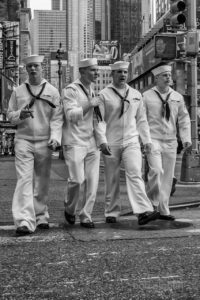 Bob