Have you ever had an image in your head that you just had to realize somehow? As a photographer, I can sometimes visualize an image with lighting details and setup and just need to implement it. My still life series definitely falls into this category.
I can't say for sure where the inspiration comes from for these images, but my guess is from the Metropolitan Museum of Art. I have tried to study the lighting in the old masters – why not look at a Rembrandt when trying to create a "Rembrandt Triangle"?)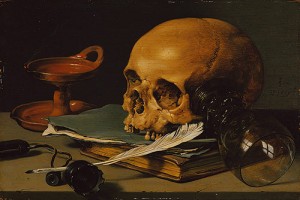 Maybe images like this Claesz stuck in my head somehow and evolved. My vision for the project has been relatively consistent – combine lively organic and challenged inorganic things – fruits and nails for instance together. Then combine traditional still life lighting with various post-processing techniques. Sometimes adding multiple overlays of textures, for instance, that change the tonality and overall feel of the image. To be clear, these images almost always were near complete in my head before I composed the shot, setup the lights, pressed the camera shutter or loaded the images to photoshop. That is not to say that all of the ideas worked as well as others, but it has been fun to put realize these images.
This was one of my earliest test shots – really to see how the idea translated into an image. I grabbed a napkin as a table cloth, some silverware and plates from the kitchen and fruit from the fridge. Of course, I had to add the nails from the shop. This was a test because for this shot, I really wanted grandiose silver and a delft dinner plate – and of course, needed rusty nails – but you can see where the origins of the idea evolved from.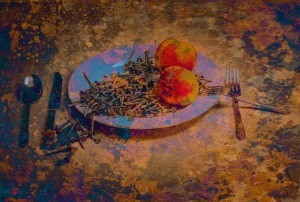 This was shot in 2013, and ever since then I started collecting things that I felt were needed to implement the series as I had a growing number of ideas in my head that had to get made.
You can see a bunch from the series here, but a few really got into my head. The "Lemon" was one of the first of the new series. When I conceived of the idea, I envisioned it printed on polished aluminum as I felt the aluminum substrate would enhance the idea – and I was happy to see the result when the first batch of images came in.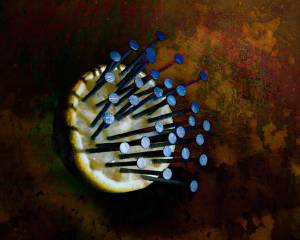 Over time, I have explored various post processing techniques and go back and forth between how much to add to or change the basic still life image. For instance, both of Lemon and Peach use various rusted metal textures to manipulate the overall feeling of the final image.
No, I don't think I hate fruit and I don't think I will call this the tortured fruit series, but perhaps there is something to that thought?