A good friend who owns a music production company asked if I could shoot photos of his staff for their website. He wanted a group shot as well as photos for each person. He had an idea in mind for the group shot and when I asked him for an example, he sent me a few shots he wanted to mimic in look and feel. Great.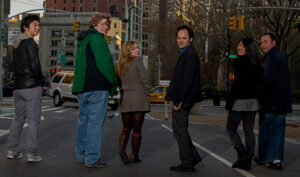 ​
I asked about the other pictures and he was very non-committal and kept deferring to "whatever I thought". I did not push him on this, and that is the reason for this post…
Since the group shot was to be in the middle of the street, I suggested an early morning weekend shot so the NYC streets (where he is located) would be relatively empty and I could manage the light. I met him a few days before the shoot and we walked around to scout some locations. There were a bunch of good spots within a block or so of his business, so I was pretty comfortable we would get that shot.
He arranged for a MUA/stylist for the shoot and also had a VAL for me, so I was looking forward to a smooth day of shooting.
The plan was for a 7AM morning shoot in the street, then move to his space where I would have equipment set up so we could then run through the individual portraits. Since he was the boss, there was no problems getting his folks to commit to the time either. So far, so good.
I figured for the outdoor street shot, I would go with two speedlites mounted on a pole that would be held by the VAL to provide some fill and a little separation. I set them on wireless triggers and if I recall on 1/2 power or so (so I could get decent recycle times) and did some quick test exposures while we were walking over to the first street scenes. I don't think we were outside more than a half hour and I was pretty sure I captured what we were going for just by looking at the back of the camera after the third or so "group walk" shot.
The shot on the top of this blog was one of the selected group shots. You can just see the shadows from the flash in this one. Looking North up Broadway with the morning sun just hitting the buildings.
On a side note, this provided time for me to get to know all the same folks I would be shooting inside soon. Though I did not plan it that way – good to remember for a future shoot – easier to break the ice and get to know a group like this – and for them to get to know me in this situation.
After the group shot, we moved back to his offices and met the MUA. She promptly set up her things and started working on the folks. For those who have never worked with a professional MUA/stylist – it is like playing golf with a professional caddy. As a photographer, you can focus on the subject and lighting rather than worrying about wayward hair or a ruffled collar.
As mentioned above, I had asked repeatedly – what do you want from the people shots? Do you want corporate head shot Any examples to work from? Black and white or color? Blank background? Bueller? Bueller?
Mistake Not to Make Again
He simply never could figure what he wanted and defaulted to a corporate headshot as a direction and thought B&W was a good idea. A quick survey of the room found a big blank wall, so no need to set up a backdrop – great.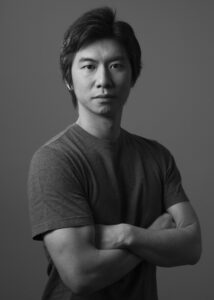 ​
One of many shots that were not used.
I set the lights for a basic male head shot (large softbox top left, small softbox bottom right for fill and a gridded light top left rear as a hair light) with the plan to run through the guys, then make adjustments for beauty lighting for the women. I had my VAL stand in for some test shots and then was ready to go. As the first guy was made ready for the shoot – he came over and I posed him with the idea that these would be standard vertical rectangular B&W web head shots – got a few in the bag then had them goof around on a few. The first guy gave me an "attitude" shot with crossed arms and a stern look – so I latched on to this and had everyone throw me this look too – figured that might be 'fun'.
So, we ran through team – the stylist running over now and again to fix some hair, flatten a shirt, trim a thread or touch up some makeup. Changing lighting for the women, sometimes switching left and right stances as subjects needed. I thought the shoot was going swimmingly well! My friend was loving all the shots, and even his partners were throwing me some smiles.
We wrapped up the shoot and I packed up my gear and I headed home – time to start processing. Picking the winners was pretty straight forward since I was shooting tethered and tend to stop shooting when I get a shot I like. Scan backwards in order and viola – the last shot is close to the best one of each set in most cases!
I sent my client friend the processed album to look at. He initially indicated that they all looked great and he would show them to his partners. And this is when the lack of planning became apparent. The group shot was a winner – everyone loved it. The problem was, there was no agreement on the look and feel of the individual shots.
Failure is an Option
The failure and lesson are simple. The group shot was a success because the client had a good idea of what they were looking for and it was straightforward to design a shot to meet that goal. The individual shots were a failure because the client had not considered what they wanted – and I failed to define that with them before the session. I was under the impression that my friend was making all the decisions, when in fact, all his partners needed to approve them.
In my opinion, my failure was colossal. My decision to go with serious head shots turned out to be 180 degrees from what they ultimately decided they wanted – though I don't think they thought this through until after the session. Technically, my shots were fine. The same partners that the did not like the shots for the website used them for conferences and talks after.
The failure was that they ultimately decided they wanted fun/goofy/happy shots – not the more traditional shots I did. If I were shooting one person, I would have walked that person through different poses and expressions – and more than likely would have captured an emotion that would have met this need.
However, this was a shoot with a dozen or so folks! I used feedback from the client on the first few shots to plan the balance. Seemed like a good plan at the time, right? I was shooting tethered, so the partners could see what I was doing – and when they were pleased with the look and feel, I expressed that I was going to do the same shots for the rest of the people. This approach is like cooking pre-made hamburgers. They will all come out perfect, or all be under/overdone. So, I cooked up a batch of perfectly cooked medium-well burgers, but after serving them up they decided they liked them rare. Hmm. Can't get there from here – would have been good info to have *before* I threw them on the grill!
What I Learned
Always have a plan. Have a backup plan too. These rules are pretty easy to understand and I think most photographers have these in mind before any shoot. I had a plan – brought backdrops and lights and was ready for my plan A. What was missed here was that the client did not know what they really wanted, and I should have worked more closely BEFOREHAND with them to get some agreement on the shot directions.
I was just asked about a shot for an entrepreneurial friend who started her own business and needs some shots for an upcoming conference brochure. She has seen my work and is interested in having me take the photograph. My first question was 'what do you want?' Do you want a location shot, a thematic shot a full body, etc. She has some great photos already that she uses, so I want to make sure that if we do this – I can give her a photo that provides the image and messaging she really wants. Am I going to just get together and see what happens – I don't think so!